The Fur Frenzy
♥ THE FUR FRENZY ♥
Hello readers, before we start blogging about trends, fashion, fur garments & accessories and such…we really want to take a moment to discuss the simple yet complicated topic of FUR with our friends and fans.
As you may have noticed over the past few years, there has been an international change in fur acceptance throughout the world, from big cities down to small towns.
Supporters now call it "natural" and "sustainable." Opposers say it's cruel and inhumane. But whichever side you fall on, there's no denying that fur had a huge presence on the fall 2013 runways this past month,
being hailed as one of the biggest trends for next season.
Striped, dyed, embossed, and manipulated, the sheer amount of real animal fur we saw this fashion month was more overwhelming than we remembered from seasons past. We scoured through every single photo of every single collection that walked this season and found that a startling 70% of the designers who showed during fashion month used fur in at least one look. 
According to Keith Kaplan, executive director of the Fur Council of America, the case against fur is due mostly to a lack of education–and the fashion world is at the forefront of changing those misconceptions. "Designers have done their homework," he told us via email. "They have come to recognize that the fur industry is committed to the humane and responsible treatment of animals and that no industry is more highly regulated at local, national, and international levels."
Kaplan went on to describe fur as an eco-friendly option, calling it a "natural, renewable, biodegradable resource"–and thus a smarter choice than synthetic fur, which he says is petroleum-based, non-renewable, and manufactured in such a manner that "releases harmful chemicals into the atmosphere.
Of course Vogue editor in chief Anna Wintour has made no secret of her penchant for the real stuff and is often credited with introducing it back into fashion.
As we recently learned, the fur industry is booming. Global fur sales rose by 70% from 2000 to 2010. Annual sales of fur pelts reached $15-16 billion, according to the fur industry's trade association, during the winter of 2010-11 (pelts are sold during a season that runs from around October through March, and the 2010-11 season is the most recent for which figures were available). An industry spokesperson attributed the rise primarily to two factors: designers who have incorporated small amounts of fur into a wider array of garments, making fur an option in warmer climates, and "a younger generation whose passion is not animal rights."
During the 2000s, everything changed for the fur industry. Designers who hadn't previously shown fur on the runway began showing it; designers who had previously shown some, showed more. Fur began to creep back into fashion magazine pages. 1990s grunge and minimalism gave way to 2000s bling and ostentation. And now, fur is back in a big way. This year's fall runways? Among the designers who showed fur and/or shearling were Alexander McQueen, Dolce & Gabbana, Lanvin, Louis Vuitton, Michael Kors, Oscar de la Renta, Prada, Rebecca Minkoff, Salvatore Ferragamo, Tom Ford, Vivienne Westwood, and Yves Saint Laurent.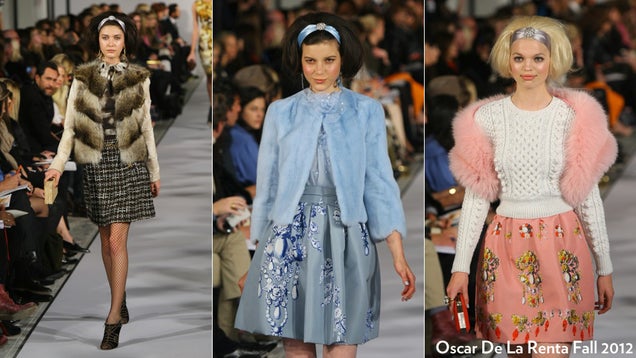 This reversal is not merely the result of a  cultural trend meeting its inevitable  backlash. It's also a story of economics, and  of the fur industry's quiet battle to rebrand  its product as sustainable, natural, and  luxurious.
 Fashion is still a very top-down business. A  fur coat in a designer's fall collection might  retail for $10,000 and be ordered by a  handful of stores; but that fur coat's value in visibility for fur as a whole helps sell thousands of $60 rabbit-trimmed Michael Kors hats and $400 coyote-trimmed men's jackets at Macy's. To help make fur a trend that pops up in magazine editorials and online, fur suppliers often sponsor designers, giving them free product to incorporate into their seasonal collections and even sending them on junkets.
Another fur supplier, the North American Fur Auctions, gave furs that year to Bibhu Mohapatra and Prabal Gurung. "We want to make sure fur is on the pages of magazines around the world," said the NAFA's director of marketing at the time. "The way to do that is to facilitate the use of fur by designers."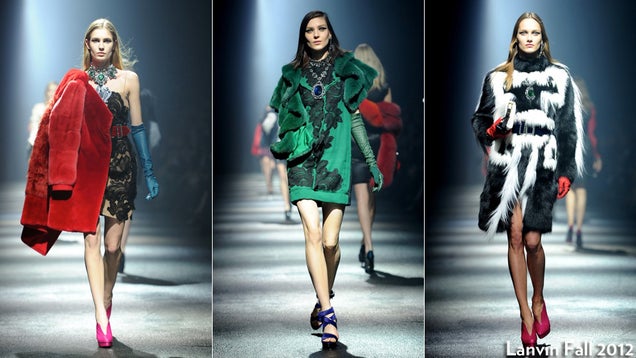 Fur industry organizations sponsor design  contests at top fashion schools, including  Parsons and the Fashion Institute of  Technology. The prizes are often lavish,  including free international travel and tens  of thousands of dollars worth of product —  perfect for a young designer who needs  backing to launch a line. It's no accident  that fur is increasingly present on the  runways: the fur industry has spent years  patiently working to re-legitimize and de-stigmatize its product in the eyes of a new generation of fashion tastemakers, and fur's current boom is the fruit of their labors. A 2007 ad campaigneven called fur "the natural, responsible choice." Alice + Olivia designer Stacey Bendet, herself a vegan, wears fur and uses it in her collection.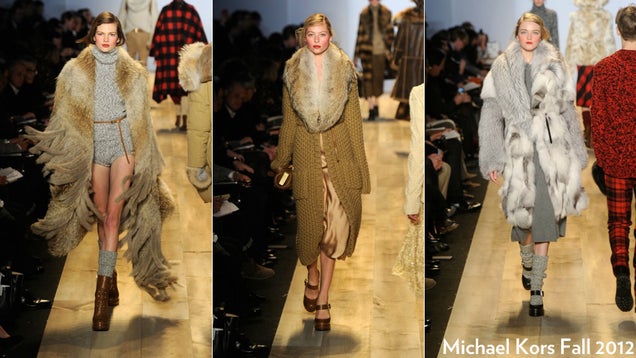 The MOST important factor for those who  love or hate fur, is to become somewhat  educated on the topic before making  purchases or jumping to conclusions. How  can you write an essay on a topic you know  nothing about? You research it! Read!  Read! Read! Find out where local furriers  and designers source their products! Find  out where they  manufacture it.
Sourcing & Manufacturing.
How can one criticize an entire industry they know nothing about and yet they are okay buying a pair of rubber boots manufactured in some factory where people live and sleep in poor conditions making barely enough wages to live. Learn. That is the only thing we can stress to lovers and haters of fur. Find out the history of how a lot of company's source and manufacture their product no matter what that specific product may be.
Here at Charisma Furs, we are proud of what we do. We consider it an art. So should you! Find out more about us and what we're all about.
Stay tuned for out next blog post about where we source our products!
XOXO
♥ Lia ♥
Charisma Furs